Dear Friends,
At our ministry web site (www.jmmgrace.com) we have over 1,000 sermons available for listening or download, all at no charge. The non-series sermons are in the category titled "Rightly Dividing the Word of God." Each volume in this category has anywhere from 50 to over 70 sermons. In volume eight, sermon number 63 is called "Hearing the Voice of the Shepherd" and it is based on what Jesus said in John chapter ten:
Verily, verily, I say unto you, He that entereth not by the door into the sheepfold, but climbeth up some other way, the same is a thief and a robber. But he that entereth in by the door is the shepherd of the sheep. To him the porter openeth; and the sheep hear his voice: and he calleth his own sheep by name, and leadeth them out. And when he putteth forth his own sheep, he goeth before them, and the sheep follow him: for they know his voice. And a stranger will they not follow, but will flee from him: for they know not the voice of strangers. (John 10:1-5)
As the Father knoweth me, even so know I the Father: and I lay down my life for the sheep. And other sheep I have, which are not of this fold: them also I must bring, and they shall hear my voice; and there shall be one fold, and one shepherd. (John 10:15-16)
My sheep hear my voice, and I know them, and they follow me
(John 10:27)
Briefly, the image Jesus is presenting here is that those who have accepted Him as Savior will recognize His voice and follow no one but Him. Recently I received the following in an email from one of our Grace Ministries Bible College students after he had listened to that sermon:
My wife and I have been traveling to Hungary where we came across a family and they are raising sheep, amongst other critters. It was interesting to see that your teaching lines up with actual life. The lady of the house was raising two orphaned lambs after the ewe died of (an) unknown reason. When she went into the back yard where these two lambs were, she just said a few words and the two lambs came running to her. They did not come to us, for we also tried to pet them but they stayed away from us. They recognized her voice only and her voice only they followed. Interesting how Jesus chose this as an example for us.
What a powerful, living affirmation of God's word! I would love to have seen this scenario played out before my own eyes.
Something that grabs my attention in the above passage of scripture is that Jesus said we, the sheep of His pasture, would hear His voice. What this means is that the Lord still speaks to us today, which totally contradicts what I heard some people teach as I was growing up. We were told that God ceased speaking to people after the Bible was given to mankind. But Jesus said His sheep would hear Him, and the grammatical structure of what Jesus said in John chapter ten expresses an on-going event, not something that would be temporary. Therefore, we can rest in the knowledge that God wants to speak to each one of His children both as their Father and Savior.
This brings up a legitimate question, one that I have often been asked, "How can I hear the voice of God?" First and foremost, it is vital that we understand that God is a spirit (John 4:21-24) and He communicates with us on a spiritual level. The moment we accepted Jesus and became born again, our spirit received the capacity to hear God and understand the things of His Kingdom (1 Corinthians 2:12).
Some Christians may believe that simply reading the Bible will help them learn to hear God speak. This is absolutely true, but only to a certain point; after all, even Satan can quote scripture (Matthew 4:1-6; Psalm 91:11-12). Briefly, I am going to share with you three things in addition to reading the Bible that will help you train the "ears of your spirit" to hear and recognize the Lord's voice, differentiating between Him, your own imaginations and the mimicking voices of lying devils.
1 - INVEST IN THE RELATIONSHIP
He that dwelleth in the secret place of the most High shall abide under the shadow of the Almighty. (Psalms 91:1)
When I first met Kathy, who later became my wife, I was immediately attracted to her. The more time we spent together, the more I knew her likes and dislikes. Also, the more time we spent talking on the phone, the more I learned to recognize her voice. It got to the point that when she called I knew exactly who it was. Today, it would be impossible for anyone to call me and try to deceive me by imitating her voice; I would immediately recognize the difference in tone, pitch and voice inflection.
The reason Jesus said His sheep would hear His voice and follow only Him is because in those days, the sheep were with the shepherd so much that they became accustomed to his voice and none other. The same is true about our relationship with God. The more time you spend with Him, the more you will begin to recognize His presence and His voice when He speaks. This time spent with Him needs to be alone, during which you may pray, worship, read His word or do a combination of all three.
2 - LEARN TO BE QUIET
And he said, Go forth, and stand upon the mount before the LORD. And, behold, the LORD passed by, and a great and strong wind rent the mountains, and brake in pieces the rocks before the LORD; but the LORD was not in the wind: and after the wind an earthquake; but the LORD was not in the earthquake: And after the earthquake a fire; but the LORD was not in the fire: and after the fire a still small voice. (1 Kings 19:11-12)
Be still, and know that I am God… (Psalms 46:10)
Far too many Christians are seeking the spectacular, all the while missing the supernatural. Learn to be quiet before the Lord. Not much seems to be taught about simply sitting in the presence of God without singing, praying or listening to worship music. To be still essentially means to stop everything else for the purpose of doing nothing. In other words, do all you can to create an atmosphere of silence and then just sit in that silence to experience God. Tell Him at the start that you love Him and know He is with you, and that you are going to spend the next 30 minutes, hour or however long just basking in His presence without saying a word.
For some Christians, this may be easier done at night when everyone else in the home has gone to bed. Others may need to go to an unused bedroom, the garage or even their church; I know our sanctuary is an excellent place in which to just sit in the silence of the precious glory of the Lord. Though He may not speak every time, He will talk to you and share His heart.
3 – INTERACT WITH THE HOLY SPIRIT
Howbeit when he, the Spirit of truth, is come, he will guide you into all truth: for he shall not speak of himself; but whatsoever he shall hear, that shall he speak: and he will show you things to come. (John 16:13)
He that speaketh in an unknown tongue edifieth himself; but he that prophesieth edifieth the church.
For if I pray in an unknown tongue, my spirit prayeth, but my understanding is unfruitful. (1 Corinthians 14:4, 14)
This point, to me, is the most critical of all: pray in tongues. The gift of tongues – in this case, a prayer language, as some call it – is a supernatural gift from the Holy Spirit that He gives to all who will open their heart to receive it. As a person prays in the Spirit, he is in spiritual communication with God.
This kind of prayer comes directly from a person's spirit. The more time is spent praying in tongues, the more you are literally conditioning your born again spirit to hear the Lord. This is most productive if you use part of that alone, quiet time to pray in tongues. I can tell you from experience, this absolutely works to help you discern to voice of the Lord. (If you have not yet experienced the infilling of the Holy Spirit and the gift of tongues, please write and ask for my short teaching, "How To Be Filled With The Holy Spirit.")
The day after I received the email from our GMBC student about the orphaned lambs, I received another from him with more information.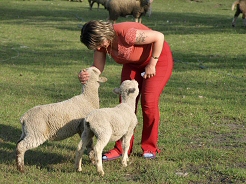 These are the lambs I wrote to you about yesterday. There is something else you need to know about (this photo). The people who raised these lambs are, in fact, devil worshippers. They do not even hide this. I do not know them personally, (I) only was introduced to them that day. The interesting thing is, the lambs are not aware of this. In some cases, this is (true) for humans as well. They grow up in a family like that, and this is totally normal to them. Then on the day the truth comes in they don't believe it.
This brings up one of the most critical reasons for learning to hear God's voice: to avoid deception. In the photo you'll notice that those lambs are not new born, they are very close to full maturity. From the time not long after their birth until now, they have listened to the kind, compassionate voice of someone who gave them attention and nurtured them in their growth.
The Apostle Paul has given a stern warning about deception in the church:
Now I beseech you, brethren, mark them which cause divisions and offences contrary to the doctrine which ye have learned; and avoid them. For they that are such serve not our Lord Jesus Christ, but their own belly; and by good words and fair speeches deceive the hearts of the simple. (Romans 16:17-18)
Now the Spirit speaketh expressly, that in the latter times some shall depart from the faith, giving heed to seducing spirits, and doctrines of devils (1 Timothy 4:1)
The simple ones he mentions are those who are not yet spiritually mature. This makes them susceptible to pastors and ministers who are genuinely kind and compassionate, but are in great error concerning doctrinal issues. As loving, concerned and attentive as these preachers may be, if they teach something that cannot be firmly supported by scripture, then that doctrine did not come from God, it came from the devil.
As we develop our spirits to hear the voice of God, He will definitely speak to us from the perspective of the Holy Spirit to warn us of error. This can even happen in the middle of a church service if the preacher begins teaching something God has not established in His word. Our Heavenly Father does not want His children feasting on spiritual food that He considers filthiness (2 Corinthians 7:1); He wants us dining from the table He has set, being spiritually nourished by His truth (1 Timothy 4:6).
Take it from someone who once believed God no longer speaks to Christians: He does, and He wants you to learn to hear His voice. He has much to say to you about your ministry, your future and His will for your life!
My your life be filled with God's presence,
Your servant in Christ,
Jim
P.S. - In case you do not have access to the internet, or if your internet is not high-speed for easy downloading of audio, and you would like a CD copy of the sermon I mentioned earlier in this letter, "Hearing the Voice of the Shepherd," please check the box below.